Selected Projects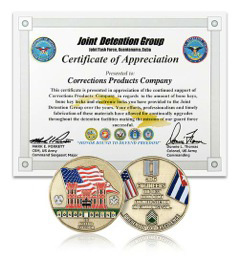 Click to enlarge image
In 2012, the U.S. Military's Joint Task Detention Group in Guantanamo Bay, Cuba recognized CPC for its decade-long support.
Camp Delta and Camp 6- Joint Task Force, Guantanamo Bay Cuba
Supplied 80 Series deadbolt locks on G housings as well as Folger Adam 800ES Series electromechanical gate locks for Al-Qaeda and Taliban detention units.
US Penitentiary Leavenworth, KS
Supplied (350) 80 Series locks keyed to existing Folger Adam keyway and combination.
CSP San Quentin, CA
Supplied (500) 1080 Series locks on custom mounting plates keyed to existing Southern Steel keyway and combination.
Penitentiary of New Mexico
Supplied (128) Retro FA120EMLL Series and (128) FA 17 Series locks and food pass assemblies.
Camp Cropper, Iraq
Supplied (100) 4080 Series locks on G housings for High Value Detention Unit. (HVD)
Lansing Correctional Institution, KS
Supplied (800) motor drive assemblies for obsolete Airteq 7225 Series locking system.
ASPC Eyman, AZ
Supplied drive motors for Universal and Stewart Decatur Series locking systems.
South Carolina DOC
Supplied over (3,000) 80 Series on P Housing
Georgia DOC
Supplied (200) motor drive assemblies for obsolete Southern Steel 4100 MOL locking system and remanufactured over (400) "Old Style" Folger Adam 120M Series locks.
SCI Mahonay, PA
Supplied Old Style Southern Steel 10120M and 1050D Series gate locks.
SCI Laurel Highlands, PA
Supplied Folger Adam 120E Series locks.
Watonwan County Jail, NM
Supplied Southern Steel 10120AM Series locks.
Placer County Jail, CA
Supplied (80) "Old Style" SS 10120M Series locks saving the county thousands of dollars and the headache of having to modify doors and frames.
Martinez Detention Center, CA
Supplied (261) SS 1017 Series locks and custom food pass assemblies keyed to existing Southern Steel keyway and combination.
Federal Bureau of Prisons (FBOP)
Over the last seven years, CPC has been awarded hundreds of contracts for detention locks including orders to supply ten new institutions with replacements parts for use in Folger Adam, Southern Steel and Airteq locking systems.
ASPC Tucson, AZ
Supplied Old Style Brink 5020S and 5020M locks.
Hays State Prison, GA
Based on years of proven performance our 1005 Series drop-in retrofits locks were selected to replace over 300 of the obsolete Southern Steel 10200 series locks at this maximum security institution.