About Corrections Products Company
There's a clear advantage to doing business with CPC. We manufacture detention locks and parts designed as direct replacements for those of the original equipment manufacturers. Then we put in something extra – the responsiveness to your needs that the OEM's and distributors leave out.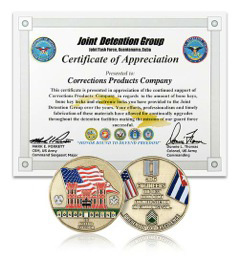 Click to enlarge image
In 2012, the U.S. Military's Joint Task Detention Group in Guantanamo Bay, Cuba recognized CPC for its decade-long support.

Since 2001, CPC has been replacing locks and parts of Folger Adam, Southern Steel, RR Brink, Airteq and others for facilities including:
San Quentin
US Penitentiary Leavenworth
Angola
Rikers
Folsom
U.S. Military's Camp Delta in Guantanomo Bay
Big News? You bet. With CPC on the scene you have a choice that hadn't existed in this industry for over 100 years. With us you get the parts you need, when you need them. Don't wait days for a price quote and months for a part.